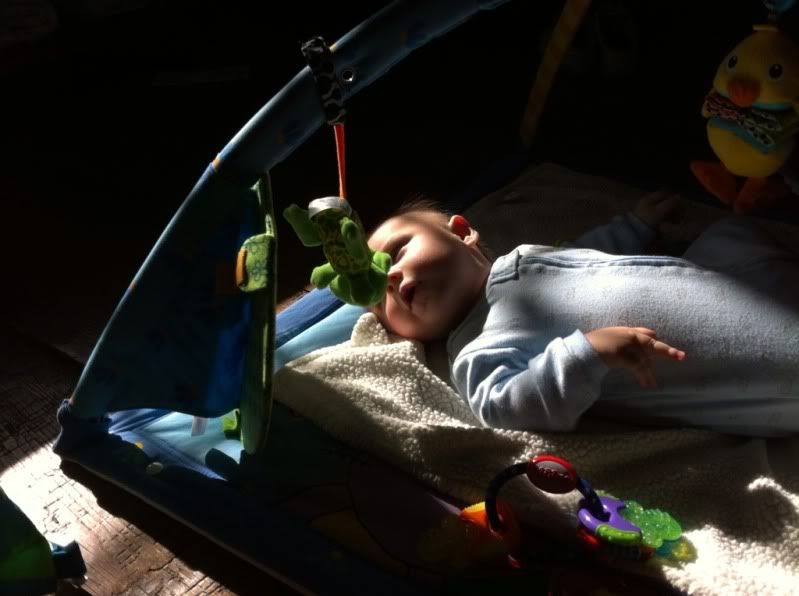 Liam is 19 weeks old (just over 4 months) and growing like a little bean. Our little (big) man is now 27 inches and well over 17.5 lbs. He went quickly through 6 month clothes and is mainly in 9 month clothes.
He is developing so fast. He has total head control and can sit up (with assistance). He is grabbing and playing with toys, and trying to shove everything possible into his mouth. I suspect that he is also teething. Lately he has been sucking on his bottom lip, constantly chewing on his hands, and being very fussy.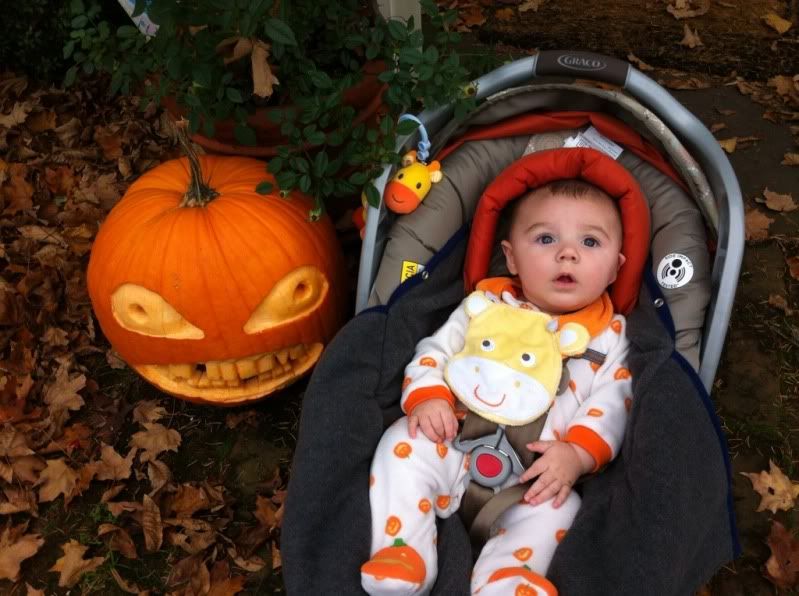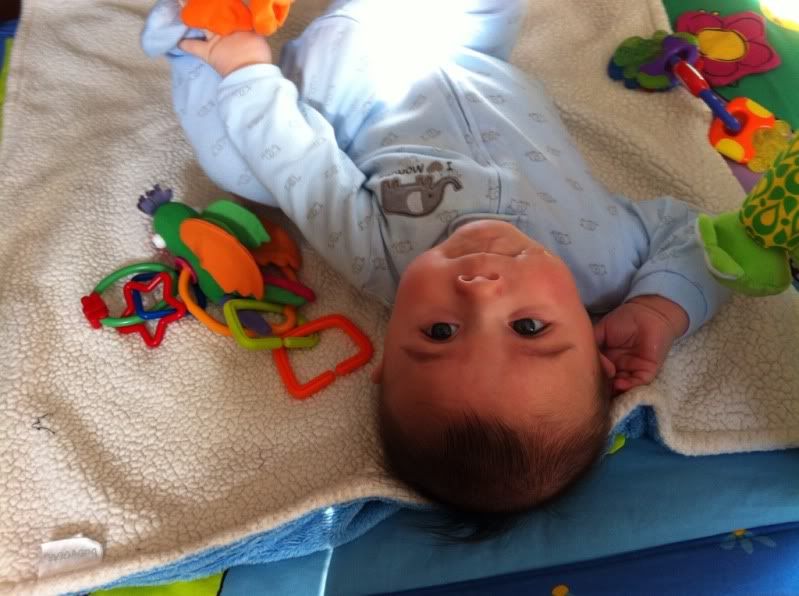 Halloween came and we got to hand out candy to many eager trick-or-treaters. Thankfully our area wasn't hit too bad by Hurricane Sandy. We had fun having all the kids come to our door but I can't wait till next year when we can dress him up and go door to door ourselves.
Update on breastfeeding: Its been going great. I am still dairy free as well as tomato free. Since cutting out some hidden dairy items (bread, butter, pies etc.) his diapers have been better and he has been spitting up less. I also discovered that tomatoes have an affect on him as well, so no more tomatoes for a while. He has been "biting" down a lot and fussy but I am attributing all of that to his teething. As you can see from the photo, hes been sucking on his bottom lip a lot. I am also including a video clip (at the bottom) of him talking to my hand. He has become much more vocal. We can't wait till he actually says words.
He recently has become more interested in Oliver, our 6 year old house cat. Oliver, on the other hand, is taking another approach to the matter. He will sleep in his room, but does not want the "thing that screams all the time" to actually touch him.
Thanksgiving is coming up and this year I CANT WAIT! Last year was unfortunate because I couldn't really enjoy the turkey. This year, I won't be able to enjoy the mash potatoes (with all the cream/butter) but at least I can enjoy the turkey, gravy, corn, roasted carrots, etc. I am also looking into a vegan style pie to make, that doesn't require the use of butter.