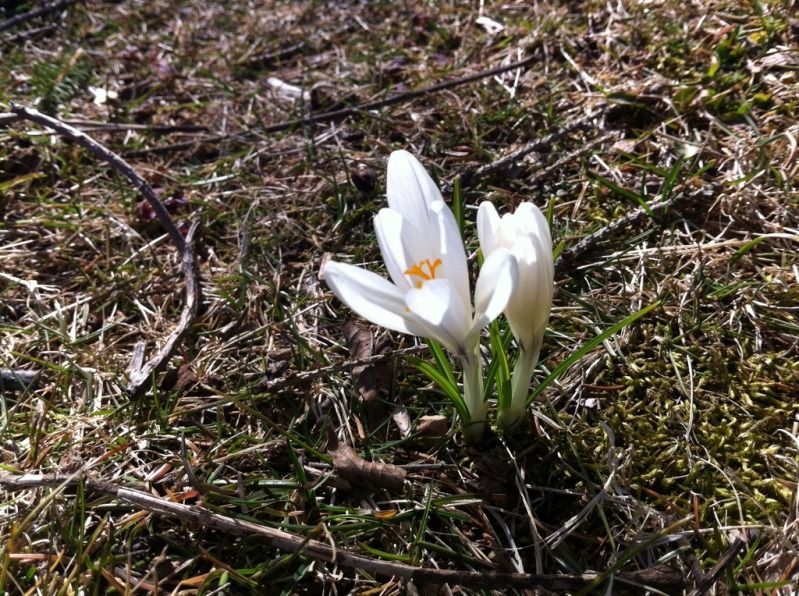 Our first Spring flower.
My little wiggle worm is 40 weeks old. There really isn't too much to update except that he is MUCH more mobile than he was just a week ago. This past week he inches and wiggles around like a little worm. He can make it from one side of the room to the other but after a while, he will get upset and want to be picked up. We have also solved his constipation issue. I now add 1 tbsp of flax meal to his oatmeal every day and so far, so good.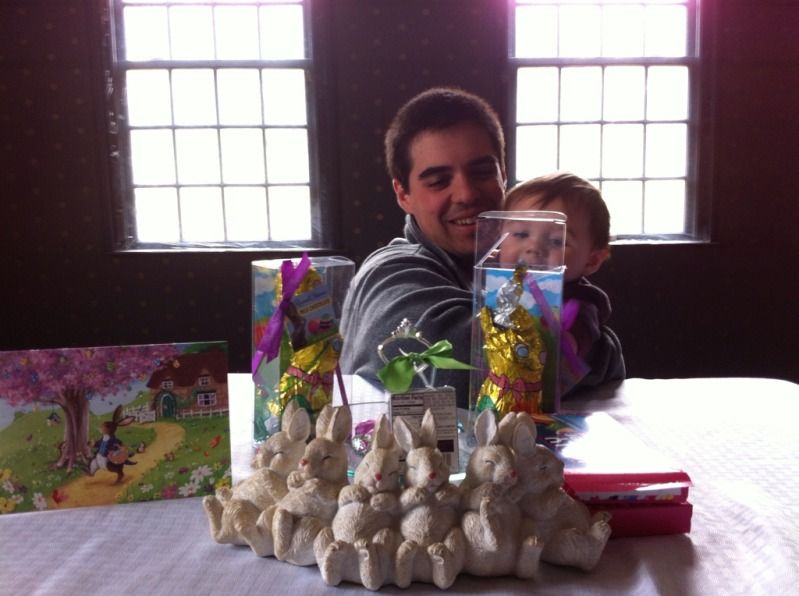 This past weekend was Easter. My mother in law came up and we had a wonderful Sunday brunch with ham, mash potato and roasted veggies. The weather was beautiful and my husband even planted 5 large rose bushes in the garden.
A breastfeeding update: I had mastitis! Let me start at the beginning Last Tuesday I felt a lump in my breast while at work. This was after Liam slept 6+ hours in one stretch and another 4 hours before he was up for the day. I called my lactation consultant who advised me on how to get rid of it. Heat, pressure and pump, pump, pump. She also instructed that I nurse him with his nose pointing towards the lump. Well... that would require one of us to be upside down. It's hard enough to hold his attention while he nurses. Any other position other than the cradle hold usually causes an upset, so needless to say, I did not nurse him upside down. The lump, however, disappeared and all was well. Fast-forward to Easter Sunday. For reasons unknown to me, the lump appeared again. Same spot, same breast. This time, however, no amount of heat, pressure or nursing helped relieve the spot. By Monday, my breast was red and according the doctor (who I later I saw that day), looked like I had been burned.
"But I don't have a fever?!" I told my OB. What I have always learned about a clogged milk duct vs mastitis: mastitis causes chills, sweats and a raging fever. I had none of that. I did, however, have the red inflammation. According to my OB, you don't necessarily need to have the fever to have mastitis. I was prescribed antibiotics that same day. I have seen an improvement but I am still healing. The redness has gone away, but things are still not 100%. Nursing on that side is very painful (like it was in the beginning of my breastfeeding journey).
The last quick update I wanted to write was that his new nighttime diapers are AMAZING. I will write a review (probably over the summer when I have more time) but I have not had a major leak in a while. I will say that I should have ordered more covers (its not easy to just rise and reuse after a full night).