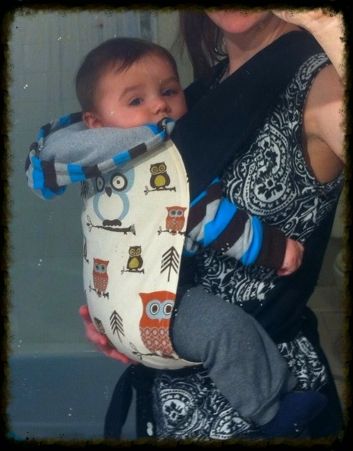 For my birthday, my mom decided to get me a Mei Tai (pronounced may tie,
meaning mei: to carry on the shoulders / tai: strap, band
), which is simply an Asian style baby carrier that you tie on.
There are many different brands but after doing some research, I came across a brand called Kozy. Information about the creator of the Kozy can be found
here
.
My mom ordered the Kozy from the site,
Carry me Away.com
. She chose them due to the low price, in stock styles and free shipping.
When I got my Kozy in the mail, I quickly opened up the box and was pleasantly surprised to see my Kozy wrapped in tissue paper with the Carry Me Away sticker on the outside. Under the brand were the words, "A carried baby is a happy baby". The Kozy came with a velum envelope with instructions on carrying. They also enclosed two pamphlets on how to front/back carry. I tried the front carry right away and was surprised how easy it was to put on, put him in and all without any help. The carrier is very comfortable, with slight padding in the shoulder straps. The mei tai itself it also very well made in terms of quality and attention to details. The makers claim that it is reversible so, technically I could have a black mei tai if I didn't want the owls to show (however I am not too worried with the owls clashing with my daily attire. I think the ability for the reversibility is for the daddies out there that don't want to sport a "cute" print.). At the end of one waist straps, there is a pocket that I can assume you can hold your ID, credit card or possibly a house key. If you order directly from Kozy.com, you can get a sewn in pocket or XL straps.
Carrymeaway.com also sent a mirror as a free gift. According to their site,
"

The Rearview Baby Carrier Mirror from Chisco lets you easily see your child even while strapped in a carrier on your back. Chisco's retractable convex mirror clips easily to any child carrier and gives you a full view of your child. Simply pull it out, check your child, and it retracts back. Locking clip attaches securely to your carrier."
Since getting the Kozy, I have mostly used the front carry. We tried the back carry once, with my husband around, but I was not too comfortable with it. I think that position will take some practice. This carrier is going to be perfect for me for when I go grocery shopping. I have a ring sling but due to such a large baby, my shoulder gets so tired after carrying him. Overall, do I recommend the Kozy? Yes, 100%.