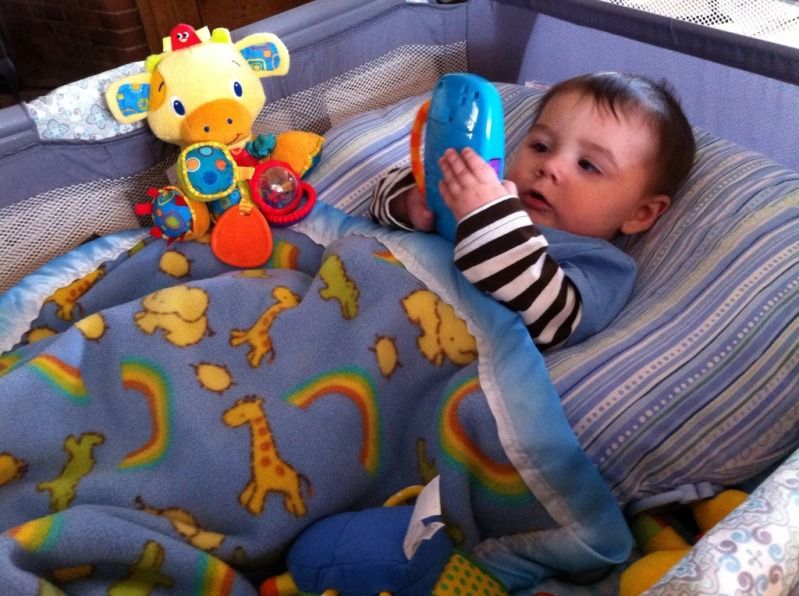 This past week my little man turned 32 weeks old! Unfortunately he has been sick for a little over 1 week now. He was running a fever last Thursday of 102. Tylenol would bring it down but it would go back up every time the Tylenol would wear off. He developed a cough and by Saturday he was very sick. The over-the-phone on-call doctor wanted me to bring him to the ER but Steve and I decided to wait, and scheduled an appointment for that Sunday. Turns out my little man was battling an ear infection, bronchiolitis and his top two teeth coming in (not in yet though).
I week later and hes doing better (and now both Steve and I are the ones sick). He's on antibiotics which are giving him horrible diarrhea. I was putting him in disposable at night due to the diarrhea but they were horrible. He would wake up covered the next morning. Last night I put him in a cloth diaper and no blowout (another reason for cloth).
Sleep: Sleep has not been going well. He used to go down great at night. Now that hes been sick, hes not been wanting to go to sleep on his own. I have been giving him extra cuddles. He was refusing to nap and he had cut back alot on nursing (we also had stopped solids completely until his tummy felt better). Due to him not nursing much during the day, I took to allowing him up multiple times at night to nurse. This may come back to bite me in the butt later but I do believe that besides the antibiotics, nursing is the best cure for a cold. Once he is 100%, I will get him back on more of a routine.
Milestones: This past week he has reached a new milestone. He has grown tall enough to be able to move around his exersaucer. It's one that has a seat that swivels around a center play station. He can now go in circles and chose what he wants to play with.
Mommy and Me Class: Last week the topic of the infant play class was PPD. We talked about whether we are happy with our babies and how it is more accepting to talk about PPD. We also talked about the flu and ways to sooth a sick child (which came in handy that following week). We played with the parachute and sang songs. This past Wednesday we discussed solids, when to give your baby what and how much. Steve was working nights and decided to come with me to the class. It was nice except that because Liam was sick, he was not himself. He decided he wanted to nurse 30 minutes into the class and then he passed right out.
Other news
: Nothing else to report except Tuesday was my birthday. It wasn't especially exciting since I had to work during the day, Steve had to work at night, Liam was sick and there was some work drama that I was dealing with. It wasn't until Wednesday that we could really celebrate. Being dairy-free, I wasn't able to get a cake but I did make blueberry apple cinnamon pancakes for breakfast, lemon pepper chicken sandwiches for lunch and ribs and sweet potato fries for dinner. Our oven had caught on fire last Saturday and by Tuesday my husband had it fixed. For the longest time I have been cooking on a three burner stove. He fixed both the oven and range, which saved us from having to buy a brand new stove. My mother-in-law bought me a book on raising chickens which is
our next endeavor
. This coming weekend we have Blizzard Nemo hitting our area. They are estimating 12-18" of snow, with Boston getting upwards of 3'. Both Steve and I have off today so it will be a nice three day weekend for the family. I plan to curl up with my chicken book and try to get some "fun" and non work-related reading in.